---
Enjoy the benefits of the compact size without sacrificing an ounce of pellet smoke flavor. This portable pellet grill makes it easy to get that authentic wood taste right in the comfort of your own backyard. Whether you're an experienced griller or completely new to outdoor cooking, our pellet grill is a fantastic choice for your next gathering.
The HALO pellet grill smoker is extremely versatile. You can grill, bake, roast, or smoke any food you want, including steak, chicken, vegetables, pork chops, and more. The range of dishes you can prepare might surprise you – even desserts can be on the menu!
Our patented igniter system allows the Prime300 pellet grill smoker to be powered by a 12-volt 5Ah Rechargeable Lithium-ion Battery Pack. This battery-powered pellet grill is untethered for the perfect outdoor kitchen addition or an on-the-go, camping and tailgating companion.
Bring cooking outdoors with the highest quality pellet grill right here from HALO. Simply set the temperature by turning the dial, then let your portable pellet grill take care of the rest.
---
---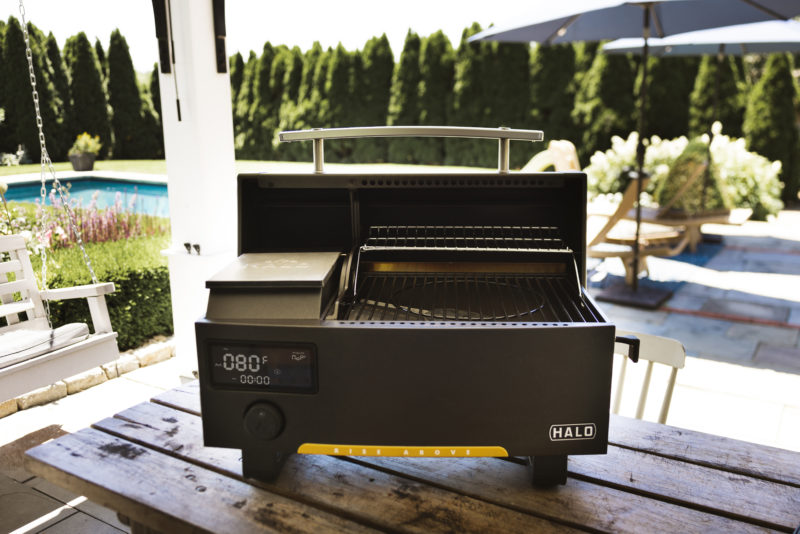 Prime300 Countertop Pellet Grill (SKU: HS- 1005- ANA) The Industry's First Rechargeable Battery Powered Pellet Grill!
True portability with patented battery-powered operation capability
300 sq in total cooking surface
180

°

-500

°F

Temperature range for smoke or direct sear
Included AC adapter, Battery sold separately
10lb hopper capacity
Wired meat probe included
Swing-away warming rack included