Often copied, never matched … there is only one, original Big Green Egg – The Ultimate Cooking Experience!
Widely acclaimed as the original American-designed ceramic cooker, the Big Green Egg was derived from an ancient clay cooking device known as a "kamado". Originally a clay vessel with a lid, today's EGG® is a modern ceramic marvel known for producing amazing culinary results for novice and experts alike for over thirty years!
Big Green Egg is the world's largest producer of the highest quality ceramic kamado-style charcoal grill. As Big Green Egg has evolved over the years, significant changes have been made to keep it miles ahead of anything else on the market, including state-of-the-art ceramics, a wide range of easily adjustable cooking temperatures, a stainless steel cooking grid and permanent porcelain glaze to preserve the signature green color. A team of research and development specialists are continuously looking for new ways to make Big Green Egg even better.
The Most Versatile Cooking Device Ever . . . Is it a Grill, an Oven or a Smoker? Yes!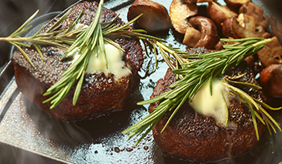 Grill
Sear the perfect steaks, pork chops or burgers on the EGG. High temperature "steak house" grilling – even at 750º F / 400º C – is quick and easy! Using the two dampers for accurate control, you can lower the heat to a more moderate temperature for other grilled foods. Fish and seafood turn out moist and tender with a flavor-packed crust unmatched by other grills.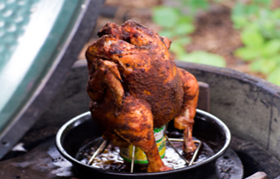 Oven
Using the indirect cooking method with a ConvEGGtor, the Big Green Egg bakes bread, pizza, casseroles, cobblers and pies better than your kitchen oven … you may never cook indoors again! The Big Green Egg retains heat and moisture so well that foods don't dry out! Poultry, lamb, beef and vegetables are naturally tastier because the juices and flavors stay locked inside.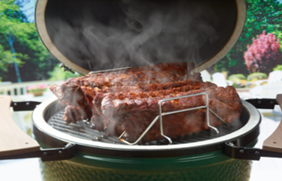 Smoker
The insulating ceramics of the Big Green Egg allow you to precisely control the temperature even at low heat. A controllable 200 to 350°F / 93 to 177°C gives succulent results with turkey, ham, lamb, chicken, ribs or any of your favorite cuts, infusing them with the aromatic wood smoke flavor. Want to slow cook at low heat for sixteen to eighteen hours … no problem!
There are seven sizes of the EGG, and hundreds of accessories and related products designed to enhance the Big Green Egg cooking experience.